Removal Statistics By ICE From 2009 to 2012!
QuestCinq.com/News (Immigration Deportation…)
U.S. Immigration and Customs Enforcement (ICE) has adopted common sense policies that ensure our immigration laws are enforced in a way that best enhances public safety, border security and the integrity of the immigration system. As part of this approach, ICE has adopted clear priorities that call for the agency's enforcement resources to be focused on the identification and removal of those that have broken criminal laws, recently crossed our border, repeatedly violated immigration law or are fugitives from immigration court (highlighted in red by QuestCinq) 
Over the past four years, through the use of targeted enforcement tools this approach has fundamentally shifted ICE's removal efforts to focus on criminal and other priorities.
In FY 2012, ICE removed 409,849 individuals. Ninety-six percent of these removals fell into one of ICE's enforcement priorities, a record high.
Print All |  Expand All |  Hide All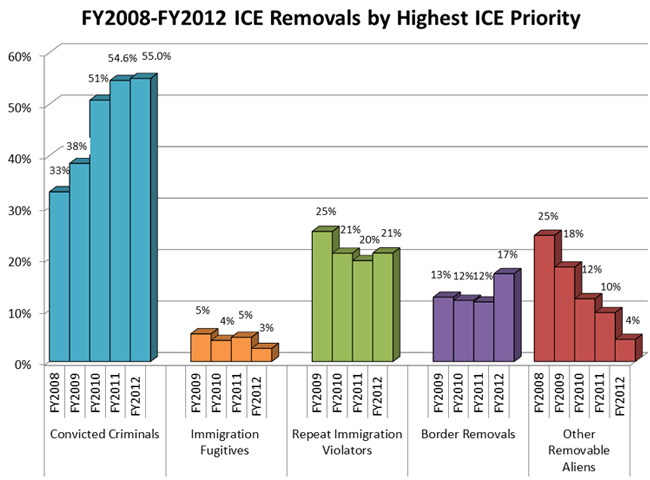 55 percent, or 225,390, of the people removed in FY 2012 were convicted criminal aliens – almost double the removal of criminals from FY 2008, and the largest number of criminal aliens removed in agency history.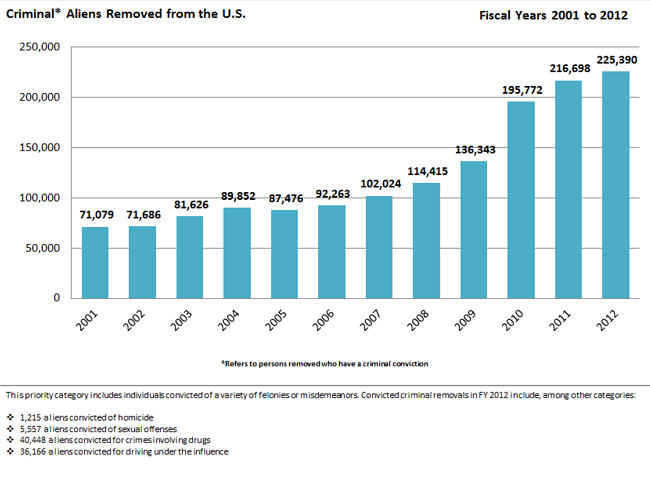 ICE remains committed to maximizing the removal of those who pose the greatest threat to public safety or national security. ICE will continue to evaluate its enforcement policies, operations and programs to ensure that they are focused on our highest priorities, making adjustments when necessary. On December 21, 2012 ICE issued a new national detainer policy restricting the use of detainers against individuals who have been arrested or convicted of minor traffic offenses or other petty offenses, helping to ensure that available resources are focused on apprehending felons, repeat offenders and other ICE priorities.
As part of the Department of Homeland Security's unprecedented efforts to secure our nation's borders, ICE prioritizes the identification and removal of recent border crossers. ICE also conducts targeted enforcement operations with the U.S. Border Patrol. These historic results along the Southwest Border are attributable to the joint efforts of U.S. Border Patrol agents and ICE officers and agents, and the emphasis ICE places on the removal of recent border crossers.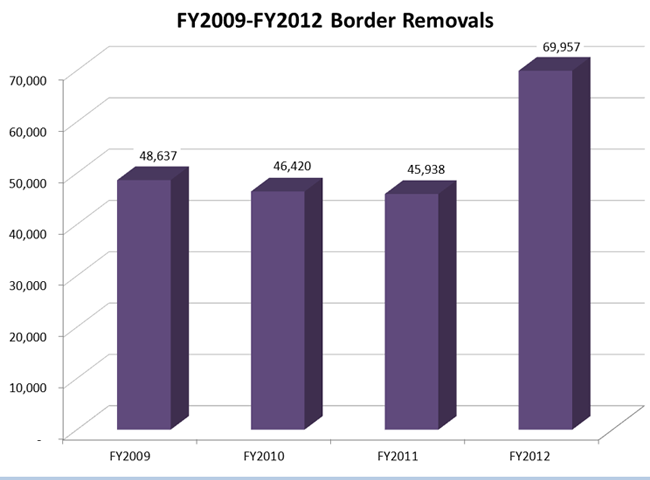 In FY 2012, ICE removed 69,957 recent border crossers.
Individuals who return to our country after having been previously removed, those who engage in immigration fraud, and those who flagrantly ignore an immigration court's order to leave the country remain an enforcement priority. Prioritization of these individuals also enhances border security and promotes the integrity of the immigration enforcement system.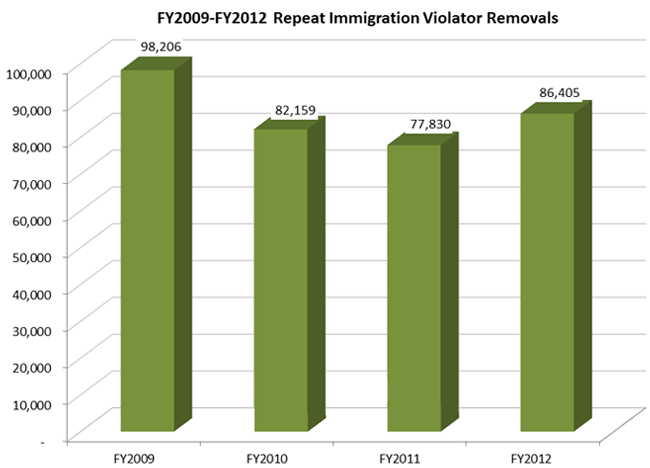 In FY 2012, ICE removed 96,828 aliens who were either repeat immigration violators or immigration fugitives.
….
Source: ICE