Seven dead including gunman in 'mass murder' California shooting
Seven people have been killed in a shooting near a college campus in California, in what authorities described as "premeditated mass murder". Seven more people were injured, one with injuries that police said were life-threatening and requiring surgery.
The gunman, who police said died in the incident, attacked on Friday night, driving a black BMW near the University of California campus in Santa Barbara.
Santa Barbara county sheriff Bill Brown confirmed that police were investigating a video posted on YouTube, saying: "It would appear that is connected."
The video, entitled Elliot Rodger's Retribution and published on Friday, shows a young man who says he is a 22-year-old virgin, complaining that women have rejected him.
"I will have my revenge against humanity," he says, vowing to kill students and Isla Vista residents. "I will punish all of you for it."
The account which posted the video contains 20 other clips, including the titles "Why do girls hate me so much?","Life is so unfair because girls don't want me" and "My reaction to seeing a young couple at the beach, Envy".
It was reported that the man in the videos had been identified locally as the son of an assistant director on the blockbuster Hunger Games film series.
Brown said investigators would not release the name of the gunman, pending notification of relatives. The identities of the victims were not immediately released.
"This was a premeditated mass murder," Brown said, describing the gunman as "severely mentally disturbed" and adding that "a lot more information will come out that will give a clearer picture of just how disturbed this individual was".
He said police believed the gunman acted alone.
The county sheriff's office said: "This is a very active and complex investigation involving approximately nine different crime scenes. We are in the process of interviewing a large number of witnesses and ask for the public's assistance in locating others."
Witnesses interviewed by a local television station reported seeing the car speeding through the streets as the gunman fired from it. Brown confirmed that the gunman exchanged fire with sheriff's deputies in two separate gunfights, before crashing into a parked car.
The suspect was found dead of a gunshot wound in the car, where authorities recovered a semiautomatic handgun. Brown said he did not know if the gunman had been shot by deputies, or if he had killed himself.
One student told KEYT-TV that he saw shots fired from the car, fatally striking one woman and critically injuring another.
"I heard shots, scream, pain," Michael Vitak said. "All emotions. I hope she is going to be fine."
Another, visibly shaken student told the station she was approached by the driver of a black BMW who flashed a handgun and asked "Hey, what's up?"
The student, who did not provide her full name, said thought he was carrying an airsoft gun and kept walking. She said seconds later, she felt something buzz by her head and quickly realised they were bullets.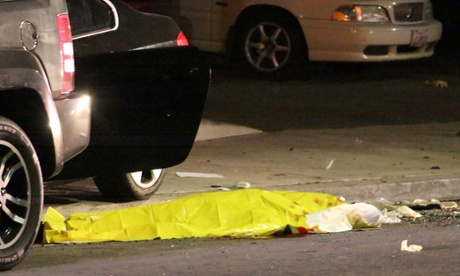 The county sheriff's statement said: "The shootings began at approximately 9.27pm on 23 May when reports of shots fired in the Isla Vista area were called in to the Santa Barbara County Emergency Communications Center. Sheriff's deputies responded and found several victims suffering from gunshot wounds.
"At approximately 9.33pm, six minutes after the initial call was received, the suspect engaged a group of responding deputies with gunfire. The deputies returned fire and the suspect fled in his vehicle.
"Seconds later the suspect was again spotted by another deputy and another exchange of gunfire occurred. The suspect fled down Del Playa Drive and eventually crashed into a parked vehicle."
Isla Vista, a small community next to UC Santa Barbara's campus, is home to 23,000 people. The area has a reputation for excessive partying.
Source: The Guardian