Israel continued to pound Gaza overnight, including hitting 100 targets in Shujai'iya, the scene of the most intense fighting of the conflict, as the Israeli military confirmed that one of its soldiers was missing.
Hamas claimed on Sunday that it had captured an Israeli soldier during the intense battle in Shujai'iya.
The Israel Defence Forces (IDF) named the missing soldier as Sergeant Oron Shaul, 21, a combat soldier of the Golani brigade.
Hamas and Islamic Jihad reportedly agreed to a five-hour pause in the fighting. However, Haaretz quoted senior Israeli officials as saying a humanitarian ceasefire was "not on our agenda right now".
Palestinians take cover after a warning of an Israeli air strike in Gaza City. Photograph: Finbarr O'Reilly/ReutersAs diplomatic efforts to broker a halt to the conflict continued in Egypt, the Israeli military said its forces had struck almost 3,000 targets in Gaza over the past two weeks – almost half since the start of the ground offensive four days ago.
Twenty-seven soldiers have been killed in fighting, the IDF said in a statement. The Palestinian death toll in Gaza was climbing steadily towards 600, a third of whom are children, according to the UN children's agency Unicef.
As the fighting continued, John Kerry, the US secretary of state, was due to meet the UN secretary general, Ban Ki-moon, and Egyptian mediators in Cairo. Barack Obama said on Monday that Kerry had been authorised to do "everything he can to help facilitate a cessation of hostilities", in a sign that international diplomacy had been galvanised by the weekend carnage in Shujai'iya.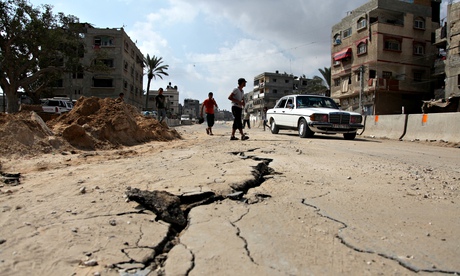 Bomb damage in the streets of Gaza City. Photograph: Ezz al-Zanoun/NurPhoto/REXKerry described Israel's military offensive as an "appropriate and legitimate effort" to defend itself but added that the consequences were of deep concern.
He pledged that the US would provide $47m (£28m) in humanitarian aid to help Palestinians. He said: "Only Hamas now needs to make the decision to spare innocent civilians from this violence."
Seven people, including four women from one family, were killed in an air strike early on Tuesday, according to Gaza paramedics.
On Monday, 25 members of the Abu Jame' family were killed when Israeli forces struck a house near Khan Younis, apparently without warning, the Israeli human rights organisation B'Tselem said. A Hamas militant was also killed.
The dead included 18 children and five women, three of whom were pregnant. The family was eating iftar, the meal that breaks the Ramadan fast.
B'Tselem called for an immediate ceasefire, saying: "Horrific developments in Gaza have reached intolerable heights: Israel is bombing houses with people in them, entire families have been buried under rubble, and streets lie in ruins. Hundreds have been killed so far, dozens in the last 24 hours only, many of them women and children. The number of refugees is rising: tens of thousands of people have nowhere to go and no safe haven."
Ten Israeli human rights organisations have written to the attorney general to raise concerns about grave violations of international law in the conflict. They questioned the legality of Sunday's operation in Shujai'iya, "in particular, the potential violation of the fundamental principles of the laws of war, specifically the principle of distinguishing between combatants and civilians".
Israeli officials continued to say that Hamas was using civilians as human shields, and it was giving warnings to residents of air strikes.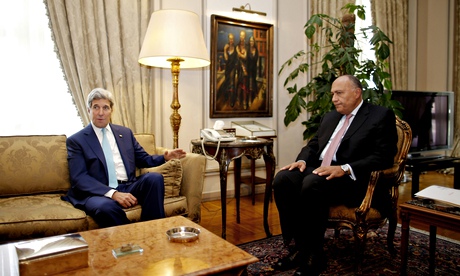 John Kerry with Egypt's foreign minister, Sameh Shukri, in Cairo on Tuesday: Kerry described Israel's offensive as an 'appropriate and legitimate effort' to defend itself Photograph: Stf/APA senior officer said there had been a significant decline in rocket fire from Gaza over the past few days, and that the scope of the rocket fire had decreased by 30% since the beginning of the ground operation.
In Cairo, Ban held talks on Monday with the Egyptian president, Abdel Fatah al-Sisi, and the head of the Arab League.
Egypt's proximity to Gaza, its peace treaty with Israel and good relations with the western-backed Palestinian Authority in the West Bank have made it the focus of attempts to defuse the crisis, though its relations with Hamas – which it sees as an offshoot of the banned Muslim Brotherhood – are hostile.
Hamas rejected Cairo's original ceasefire proposal last week, though a senior official said Egypt might be willing to alter its stance.
"Egypt does not mind adding some of Hamas's conditions provided that all involved parties approve," the official told Reuters. Hamas is demanding an end to the blockade of Gaza, an end to hostilities, opening the border to Egypt, the release of prisoners held by Israel and other conditions in exchange for a truce.
Ismail Haniyeh, the former Hamas prime minister, claimed that Israeli forces were being beaten in Gaza. "The Palestinian resistance will meet the demands and expectations of the Palestinian people," he said on Monday evening, adding that Hamas's conditions were "the minimum demands" for any truce.
"Our people's sacrifices are heading for triumph," he said in a pre-recorded TV broadcast. "We see the al-Qassam Brigades and the Jerusalem Brigades and all resistance factions beating the enemy and attack him again and again, under the earth and sea. The ground operation is a declaration of failure on the part of the enemy aerial war against Gaza."
Source:The Guardian