Fifa corruption scandal: Blatter calls for unity before presidency vote
(BBC)…Fifa president Sepp Blatter has called for unity in a speech to delegates as they prepare to vote for the next head of football's world governing body.
The vote has been overshadowed by corruption allegations. Seven senior officials were arrested at a hotel in Switzerland on Wednesday.
Mr Blatter is expected to beat Prince Ali of Jordan and win a fifth term.
Mr Blatter admitted the arrests had "unleashed a storm" but said he could not "supervise everyone in football".
He told the delegates in Zurich: "I am appealing to unity and team spirit so we can move forward together.
"We cannot let the reputation of football, and of Fifa, be dragged through the mud."
Those targeted by investigations, carried out by the US and Swiss authorities, were "not the entire organisation", he said.
Mr Blatter has faced calls to resign, including from UK Prime Minister David Cameron, who said in Berlin on Thursday that Mr Blatter should quit "the sooner the better".
Bomb threat
Fifa's 209 members will vote in the coming hours in a secret ballot on whether to give Mr Blatter, 79, another four-year term.
The only challenger is Prince Ali bin al-Hussein, 39.
In the first round, a candidate must get 140 votes – two-thirds – to win outright.
If that is not achieved, there will be a second round requiring a simple majority.

Analysis: Matthew Kenyon, BBC Sport
If you read most of the world's media, Sepp Blatter's ability to hang on to power at Fifa is nothing short of miraculous.
After years of negative headlines, the frenzy has reached fever pitch in the wake of the US allegations of corruption – even though Mr Blatter himself has not been implicated. And running through all this is a theme – bemusement that much of the football world keeps voting for him.
Nowhere is Sepp Blatter's support stronger than across Asia and Africa. So why are most of the representatives from those two continents preparing to vote for him again?
Here's about as succinct an answer as you're going to get – from the president of the Nigerian Football Federation: "Blatter feels Africa. What Blatter pushes is equity, fairness and equality among the nations."
We're talking about two things – the first is concrete investment, often literally so. The second is respect.

The congress was briefly disrupted by a bomb threat, but the venue was later given the all-clear.
Mr Blatter, in office for 17 years, enjoys strong support in Asia, the Americas and Africa.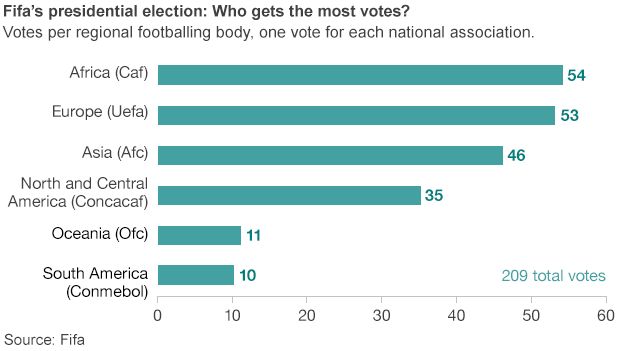 The president of the Nigerian Football Federation, Amaju Pinnick, told the BBC he was 100% convinced Mr Blatter would win, taking "a minimum" of 50 of the 54 African votes.
"We know our friends from Asia, our friends from Latin America, so I can assure you it's going to be a good victory for him."
Prince Ali has the support of most of Europe.
Responding to the scandal, he said that Fifa needed leadership that "accepts responsibility for its actions and does not pass blame… and restores confidence in the hundreds of millions of football fans around the world".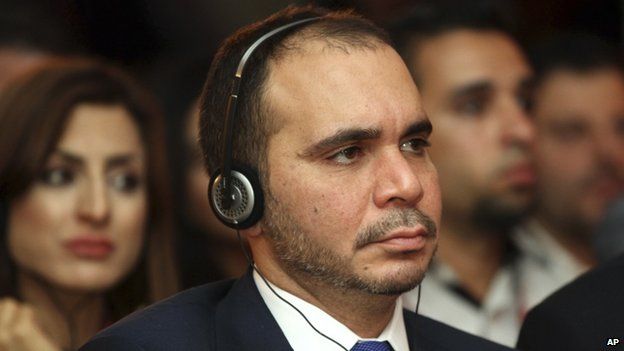 Sepp Blatter: The man who won't give up
Who is Prince Ali Bin al-Hussein?
The vote comes two days after seven top officials were held in Zurich in a US fraud inquiry that indicted 14 people.
They are accused of bribery, racketeering and money-laundering involving tens of millions of dollars since 1991.
The aim of the bribes was to influence the outcome of bids to stage football tournaments such as the 2010 World Cup in South Africa and the 2016 Copa America in the US, prosecutors say.
Swiss prosecutors have launched a separate investigation into the bidding process for the World Cup tournaments in 2018 in Russia and 2022 in Qatar.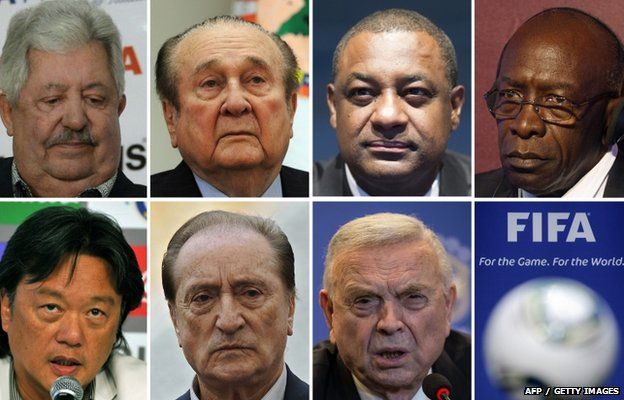 In his speech, Mr Blatter appeared to suggest there would not have been a crisis had the tournaments been awarded to different countries.
"If two other countries had emerged from the envelope, I think we may not have these problems."
England, where the media has sought to expose Fifa corruption, and the US, which is spearheading the latest investigation, lost out to Russia and Qatar in the bidding.
In its first statement since Wednesday's announcements, Qatar defended its actions over 2022, saying it had "fully complied with every investigation" and had "conducted our bid with integrity".
Fifa executive committee member and Brazilian FA president Marco Polo Del Nero has meanwhile left Switzerland and returned to Brazil.
Another Brazilian executive committee member, Jose Maria Marin, was among those detained in Switzerland on Wednesday.
Many of Fifa's major sponsors, including Coca-Cola, Visa, Adidas, McDonald's, Hyundai Motor and Budweiser, have expressed concern over the investigations.