Former ambassador's bizarre attack on Obama lays bare strains in US-Israeli ties
It's a peculiar feature of American relations with Israel that more than a few senior diplomats posted from Jerusalem to Washington were once US citizens.
The present Israeli ambassador, Ron Dermer, was born in Miami Beach and carried an American passport until he renounced it in 2005 in order to serve as the Jewish state's economic envoy in DC.
When Dermer lived in the US, before moving to Israel two decades ago, he was a Republican party operative. There is a view in the White House that he remains one as ambassador after Dermer colluded with Republican leaders to embarrass Barack Obama, most notably by engineering an extraordinary foreign intervention in American politics with the Israeli prime minister's controversial speech to Congress to denounce the president's Iran policy.
Dermer's predecessor as envoy in Washington, Michael Oren, has now created his own diplomatic uproar with a remarkable attack on Obama that appears at least partly rooted in his disillusionment with the president as leader of the land of Oren's birth.
Oren, a New Yorker and US citizen until 2009 when he became ambassador, has stirred outrage by suggesting that the president is not a loyal American. He has also drawn accusations of "psychobabble" for arguing that Obama's alleged hostility to Israel is because abandonment by his Muslim father has driven a craving to be accepted by his father's "co-religionists".
In extracts from a book to be published on Tuesday, Ally: My Journey Across the American-Israeli Divide, Oren accuses the president of policies that "imperilled Israel" not least over Iran. He told an audience in New York on Sunday that the book is intended to mobilise American opinion ahead of the deadline next week for an "emphatically bad" US nuclear deal with Iran reached over the objections of Israel. Oren wrote in the book of how disturbed he was that Israel's "closest ally had entreated with our deadliest enemy on an existential issue without so much as informing us".
Oren, who is now a member of Israel's parliament, writes that Obama is soft on terrorism, a claim open to challenge from those on the end of US drone attacks. He also paints the president's advisers as infected with "neo-Marxist ideas" from studies at American universities.
Oren, who was ambassador to the US until 2013, has promoted the book with a blitz of opinion pieces and interviews, including one in the Wall Street Journal under the headline, How Obama Abandoned Israel. He describes relations between the US and Israel as "in tatters" in part after the president dared to demand Prime Minister Binyamin Netanyahu halt the inexorable expansion of Jewish settlements in the occupied territories which has done so much to undermine the prospects of peace and a Palestinian state.
Tellingly, Oren says in an interview about the book with the Times of Israel that the creation of a Palestinian state is "unrealistic" but that Israel should keep up the diplomatic pretence of supporting one. That is widely considered to be the true position of Netanyahu who promised voters before this year's Israeli election that he would not permit the creation of a Palestinian state but, under US criticism, claimed to have altered his position after he was re-elected.
Oren writes that he has tried to understand why the president acts as he does and came to the conclusion that it is because Obama does not believe in American exceptionalism. That leads the former Israeli ambassador to perhaps his most incendiary charge, that the president is somehow disloyal to the US.
"More alarming for me still were Obama's attitudes towards America. Vainly, I scoured Dreams from My Father (Obama's first book) for some expression of reverence, even respect, for the country its author would someday lead. Instead, the book criticizes Americans for their capitalism and consumer culture, for despoiling their environment and maintaining antiquated power structures. Traveling abroad, they exhibited 'ignorance and arrogance'– the very shortcomings the president's critics assigned to him," writes Oren, according to an excerpt released to the rightwing Breitbart.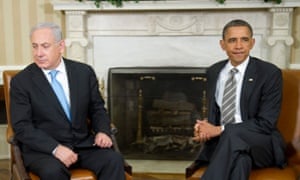 Oren drew more fire over an article in Foreign Policy on Friday which said that Obama has been hard on Israel and more sympathetic to the Arab world in part because his father and stepfather were Muslim.
"I could imagine how a child raised by a Christian mother might see himself as a natural bridge between her two Muslim husbands. I could also speculate how that child's abandonment by those men could lead him, many years later, to seek acceptance by their co-religionists," he wrote.
Yair Lapid, former finance minister and leader of the Yesh Atid party, told Israel radio that Oren's claim of Muslim influence on the US president was "utter nonsense" and "pseudo-psychological analysis not based on anything".
The head of the strongly pro-Israel Anti Defamation League, Abe Foxman, accused Oren of veering "into the realm of conspiracy theories".
"With an element of amateur psychoanalysis he links US policies in the Middle East to the president's personal history of having a Muslim father. Then, taking it a step further by suggesting this "worldview" of Muslims and Islam has driven the president to embrace the Muslim world at the expense of both Israel and US national security interests. This results in borderline stereotyping and insensitivity," said Foxman.
Oren offers an insight into how deep the tensions between Obama and Netanyahu were, and also how powerless the White House was to influence the Israeli leader. The former ambassador reveals an incident in which the then US ambassador to the UN, Susan Rice, threatened to withdraw Washington's unswerving support for Israel in the security council unless Netanyahu stopped the relentless construction of Jewish settlements which is a major factor in preventing a peace agreement.
"If you don't appreciate the fact that we defend you night and day, tell us," admonished Rice.
The Israeli government has sought to distance itself from Oren even though there is little doubt that his book reflects the betrayal some of its leaders feel toward Obama. It has said that the former ambassador largely played a "public diplomacy" role in Washington and was out of the loop on many of the more important negotiations with the US.
The deputy foreign minister, Tzipi Hotovely, said that Oren only represents himself, not the government.
"The United States is a true friend of Israel and every attempt to harm the relationship between the two countries by resorting to personal attacks will not succeed," she told the Israeli website Walla News.
Haaretz reported that the US ambassador in Tel Aviv, Dan Shapiro, took him to task over the book and subsequent articles. The newspaper said Shapiro appealed to Netanyahu to issue a public statement repudiating Oren's claims but that the Israeli prime minister refused.
Oren defended the book to the Times of Israel as "a cri de coeur … for an alliance that should be in a much better place than it is".
Perhaps hoping to avoid giving more publicity to Oren's book, the White House has so far declined to comment.
Source: The Guardian