Dreamers on the campaign trail: 'We cannot vote, but we do have a voice'
Nobody could accuse Erika Andiola or César Vargas of joining Bernie Sanders' presidential campaign because they fantasized about working in the West Wing. As "Dreamers", young immigrants protected by presidential action, his Latino outreach directors keenly feel the limits that bound their ambitions.
Not only will the young Mexicans be barred from voting for the Vermont senator as he campaigns for the Democratic nomination this spring, they will also be blocked from the polls in November, after devoting more than a year of their lives to the election. And should Sanders win the nomination and the presidency, they will also be prohibited from following him into the White House.
"Only US citizens get to work at the White House," Vargas said ruefully, speaking in the bustling Sanders headquarters in Burlington, Vermont. "But that's what this campaign is all about for us – we cannot vote, but we do have a voice."
Three hundred miles away in downtown Brooklyn, a similar dynamic is playing out in Hillary Clinton's headquarters. Clinton's core team may be approximately 10 times bigger than Sanders' 30 people – she has about 300 packed into the entire floor of an office block – but here too a "Dreamer" can be found at the pulsing heart of the operation.
Her name is Lorella Praeli, and she leads the team seeking to move the massive Hispanic electorate to help put Clinton in the White House. Unlike her counterparts in the Sanders camp, she could taste life in the West Wing should her boss win.
At 27, she has lived in America for 17 years, though only as a US citizen for a month – this is her first voting election. She came to the US from Peru at 10, in search of medical care for an accident that cost her a leg. For the next 13 years she lived as an undocumented immigrant, and only acquired a green card after marriage.
She says her decision to join Clinton was "very personal". Her mother Chela is still undocumented, and her sister is on a "deferred action" permit, known as Daca, the same status now held by Sanders's Latino directors.
"My family has become for me a personal microcosm of why the stakes are so darn high in this election," Praeli said.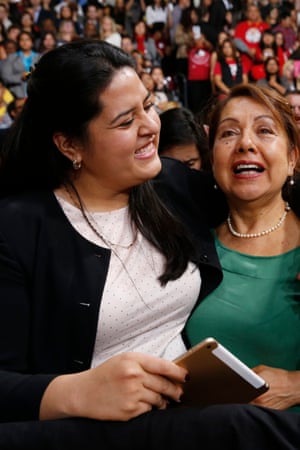 Outsiders at the epicenter
The appointment of Dreamers to central roles within the two main Democratic campaigns marks an historic shift in the profile of Latinos in US politics. In previous cycles, Hispanic strategists and pollsters were deployed, but only at the margins.
Now they are at the epicenter. The sea change is not coincidental: it partly reflects the growing demographic power ofHispanic people in the United States, and partly recognizes that the debate over the country's 11 million undocumented immigrants has, with the help of Donald Trump, shot to the top of the political agenda.
Last week the US supreme court intensified that debate. The justices announced that they will hear a challenge from Republican-controlled states to Barack Obama's executive actions to protect undocumented immigrants from deportation.
Obama's latest program, an extension of the original deferred action, would have allowed up to five million immigrant parents, Praeli's mom among them, to stay and work in the country indefinitely.
But the policy was put on hold after the Republican attorney general of Texas, Ken Paxton, claimed Obama had abused his authority. The supreme court justices have indicated they will issue their ruling by the end of June – incendiary timing, just before the parties head into their national conventions.
"The supreme court ruling in June confirms that immigration will be the defining issue of this campaign," said Fernand Amandi, principal at the Latino research and polling firm Bendixen & Amandi.
Personal stakes in the race
But before we get to that, there's the small question of the Democratic nomination. Praeli's team has campaigned for Clinton for months in Nevada, Colorado and other Latino-rich states, forming networks of female volunteers and staging training sessions in Spanish on how to caucus.
Praeli sees her role as a sort of link between her community and her candidate. She strives to make sure that Hispanic people understand that unless they vote for progressive candidates – not just for president but also for Congress – then there is no hope of breaking the Republican deadlock on comprehensive immigration reform.
She also uses her skills as a former organizer with a Dreamer network, United We Dream, to channel the aspirations of her community back to Clinton. "If you have people who are directly effected by the policies you are trying to champion at the center of your campaign, then you are more likely to make the right policies."
Early on, she got Clinton to sit down with other Dreamers in Nevada. Last month she arranged a meeting with a family with mixed immigration status – some US citizens, others on deferred action or undocumented – to illustrate to the former secretary of state how complicated an average Latino household can be.
Source: The Guardian